Alma Metals Finds its Way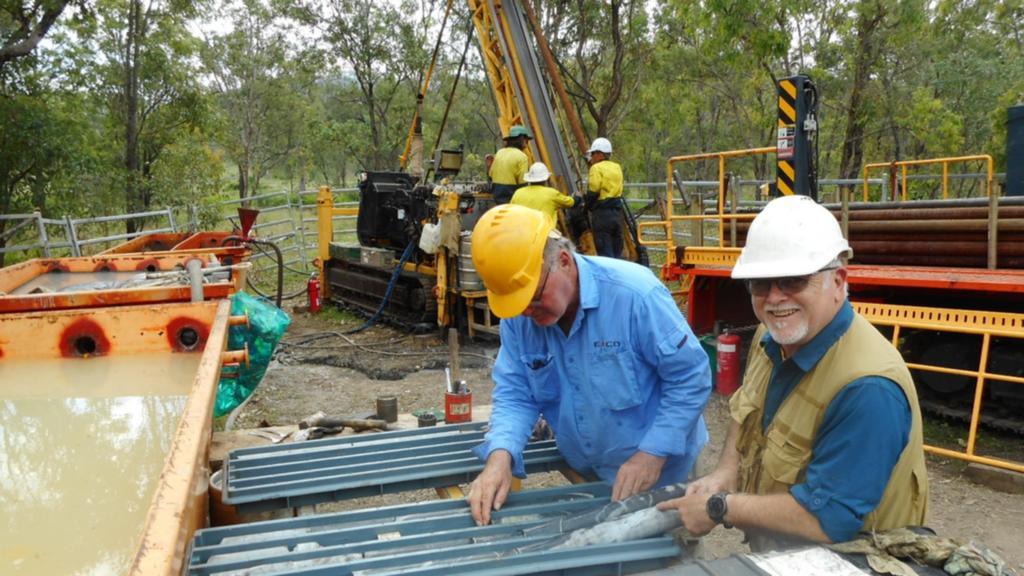 A change in strategy appears to be close to paying dividends for Alma Metals after it read the global energy tea leaves and shifted from African coal to instead zero in on a big Queensland copper find.
The $13.25 million market-capped company is bearing down on an easy-mining, shallow porphyry deposit at its Briggs copper project, just 50km west of Gladstone in Central Queensland. Its flagship project is an advanced porphyry copper system hosting an inferred JORC resource of 143 million tonnes at 0.29 per cent copper.
But that resource is set to be significantly upgraded next month as results from the company's most recent drilling campaign come to light.
Porphyry mines are renowned for throwing up decent tonnages and are responsible for about 60 per cent of the world's copper. Their large volumes make up for the low grades, which typically sit between 0.2 per cent to 0.7 per cent copper equivalent.
However, Alma believes its project has a real opportunity for growth and its exploration target of between 455 million tonnes and 850 million tonnes grading from 0.2 per cent copper to 0.35 per cent copper will soon be in the rear-vision mirror.
And it has pinpointed a giant Western Australian-based operation to be what management believes is its realistic guideline.
Caravel Minerals' copper project of the same name, 150km north-east of Perth in the South West Yilgarn Terrane, has a resource of 1.18 billion tonnes at 0.24 per cent copper and 48 parts per million molybdenum for 2.48 million tonnes of contained copper at a 0.1 per cent cut-off grade.
Alma believes it is already on a trajectory towards punching out similar numbers and its management should know. Its chairman Alasdair Cooke is also an executive director at Caravel, which claims to be "Australia's largest undeveloped copper project" and has a market capitalisation of $115 million.
Alma is also a Caravel shareholder – a legacy of its days when it was known as African Energy Resources developing uranium and coal overseas before its savvy pivot towards copper and ultimately, a complete rebadging. It is quite the classic junior sector story of a company finding its way.
In 2021, it staged an earn-in joint venture with Canterbury Resources over the Briggs copper project. Its exploration spend is on track to reach 51 per cent ownership by the first half of next year and a further $9 million exploration outlay will see it move up to 70 per cent by 2031 .
Back in April, drilling outside of Alma's resource at Briggs intersected thick zones of porphyry-style copper-molybdenum mineralisation, with assays expected shortly and exploration targets now defined for three anomalies.
Then last month, the explorer received commitments to raise $2 million via a placement at $0.01 per share to fund further resource extension and infill drilling.
The majority of the funds raised in the placement will be committed to additional core drilling set to start at Briggs early in the next quarter. It is also about then that that the company expects to publish its revised mineral resource estimate for its deposit – a milestone which will then lead to more drilling as it looks to drive its numbers north.
And driving that mission is a predicted global supply shortfall in copper, which Alma managing director Frazer Tabeart believes could come as early as next year. An exploration geologist with a particular interest in porphyry coppers, Mr Tabeart told Bulls N' Bears that the issue was serious, with few new global discoveries of any significance.
The game plan for Alma is a simple one – build the resource to a point where it can operate a mine with the right economies of scale. The numbers on the back of the envelope put that at about 20 to 30 million tonnes per year, which management believes it can make work with the right cost structure and a low strip ratio.
But to reach this point took a moment of enlightenment, like Paul on the road to Damascus. In 2019, the company was working to get a series of coal and power projects up in Botswana. However, the idea of raising money for African coal appeared to be getting closer and closer to the too-hard basket.
A circuit breaker was needed.
Management realised their blood, sweat and tears were going to be better poured into something that could be funded, over something that couldn't … and the answer lay closer to home.
With attractive geology and an investment friendly landscape, Alma decided to build a new copper portfolio in Australia.
With no legacy issues shackling it, the deal with Canterbury Resources appeared a winner for both parties, especially given it revolved around a commodity that boasted a global demand reaching fever pitch.
S&P Global Market Intelligence has predicted that the world's annual copper demand will nearly double from 25 million tonnes to about 50 million by 2035, backing Mr Tabeart's assertions.
Alma also has its finger in a copper pie in WA's north. Its East Kimberley project was uncovered over a few holiday beers, while peering over some old maps. Although it is yet to be explored, management believes the area appears to show the hallmarks of high-grade sediment-based projects similar to some of the world-beating African deposits in Zambia and the Congo.
With two agreements already secured with local traditional landowners and the paperwork submitted to government, the company is hoping it will soon be able to get stuck into a project. Should it come off, it could be off to the races.
But in the meantime, it will be looking to steadily build its resource in Queensland, one hole at a time, as it seeks to become the Sunshine State's next big copper player.
Alma is said to mean "wisdom", or in Arabic it is believed to translate to "unbelievable, but true". The company is optimistic it can bring that moniker to life.
"We have not yet drilled a hole on this project that is not mineralised," Mr Tabeart said. "There is clearly a resource story that is growing here."